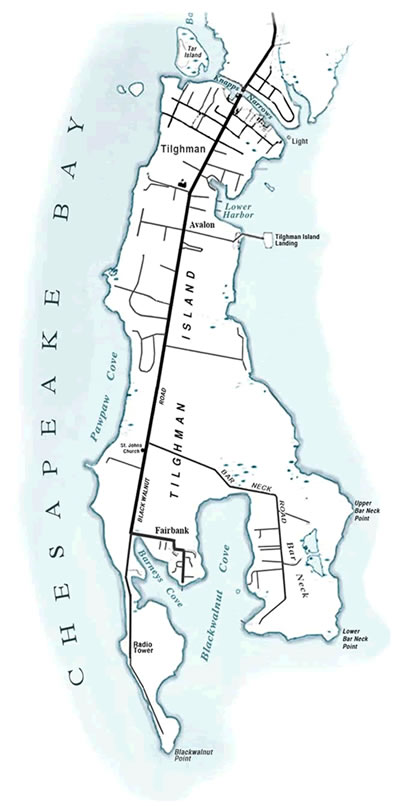 Located at the end of the Bay Hundred peninsula on the eastern shore of the Chesapeake Bay, Tilghman's Island is less than three miles long, a mile wide, and has seen 13,000 years of human habitation. The first English settlers arrived in 1656.
Granted to Seth Foster in 1659, the Great Choptank Island was inherited in 1741 by Matthew Tilghman of Claiborne, whose descendents owned the island for the next 100 years. For its first 175 years, it was a family farm supplying grains, vegetables, fruit, cattle, pigs, and timber. But in the 1830's, the family began to sell off lots; new residents arrived interested in harvesting the bounty of the Bay as well as the land. Tilghman's location in the middle of the Bay allowed watermen to work the water in all seasons.
After the Civil War more families landed on Tilghman's Island, attracted by the booming oyster industry and the opportunities it presented. They worked on the dredges and tongers and with the shipping companies who packed the seafood on ice and sent it all over the nation. Islanders set up seafood buying and preparing operations on pilings over Dogwood Cove; oyster shells shuckers discarded into the cove grew into an island that held packing houses, a store, post office, and eventually the Tilghman Packing Company. The economy thrived, and Tilghman became the center for commerce in Talbot County: a preeminent watermen's community.
In the twentieth century, Tilghman's prosperity continued. Not only did Tilghman Packing Company employ hundreds of workers, 650-700 in its prime, but the island spawned a robust boat building industry and summer tourism introducing visitors to the pleasures of hunting and fishing. The island had four villages, four post offices, three schools, multiple churches, several stores, a bowling alley, a movie theatre, and eight gas stations. Dozens of skipjacks and bugeyes made Tilghman their home
The decline in the water industry brought changes to Tilghman. By the end of the century the Packing Company had closed and developed into a residential community, Tilghman-on-Chesapeake.
Older watermen retired, younger watermen pursued other careers and left the island, and most of the working skipjacks disappeared.
Today, the island offers an eclectic blend of the traditional and modern; historical culture combines with contemporary lifestyle. Tilghman, long the destination for water fowling and sport fishing, now attracts larger numbers of "heritage tourists" seeking an authentic Chesapeake Bay experience as well artists inspired by the island's natural beauty and charm.